X's OFFLINE
X-Ray Nondestructive Inspection System
X's OFFLINE X-ray fluoroscopic inspection system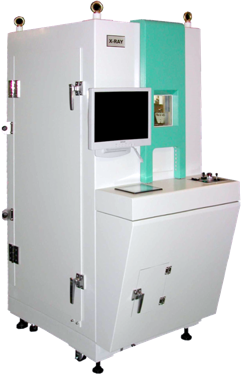 | | |
| --- | --- |
| Applications | Electric components, batteries, aluminum die castings, chip mounted board, etc. |
The X's OFFLINE is designed for piece-by-piece IC inspection as well as lot-by-lot inspection of ICs in trays, electric and electronic components, batteries, and other parts. The X's OFFLINE supports simultaneous inspection of multiple workpieces and teaching of automatic inspection processes.
FEATURES
Table-loading X-ray inspection system for sampling and lot inspection
The front-loading table improves work efficiency.
Various inspection modes are available, such as fully automatic, manual, and teaching modes.
You can optionally add functions to automate image evaluation, gather inspection data, and perform statistical processing.
The automatic image evaluation function helps to reduce labor and achieve uniform quality control.
Compact and lightweight, the X's OFFLINE can be installed with a smaller footprint than conventional models.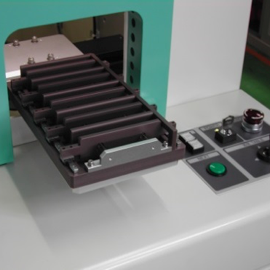 Front-loading sample table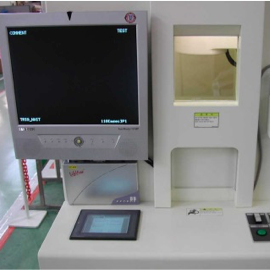 Operation panel & image display
IMAGE EXAMPLES
SPECIFICATION
Key Specifications
X's OFFLINE
Tube voltage
40 to 100 kV
Tube current
0.83 mA maximum (at 50 W)
X-ray focal spot size
0.1mm
X-ray detector
X-ray I.I. (4-inch / 2-inch)

∗

Sample size (D × W)
200 × 100 mm / 330 × 150 mm
Table drive shafts
X, Y, Z, rotating, tilting
Maximum load
5kg
∗ X-ray I.I.: X-ray image intensifier