X-Ray Nondestructive Inspection Systems
TXP-5150FD X-ray fluoroscopic inspection systems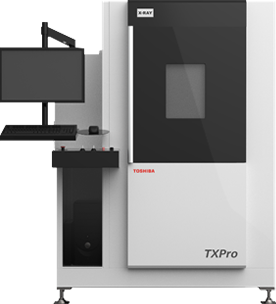 | | |
| --- | --- |
| Applications | Aluminum die castings, mechanical components, electronic parts, resin moldings, etc. |
TXPro series all-in-one X-ray fluoroscopic inspection systems with five-axis sample table for multi-directional imaging are suitable for inspecting small- to medium-sized aluminum die castings.
FEATURES
New compact design
The size of the device has been redesigned from the previous model to achieve a more compact design.
Ideal for inspection of medium to large samples
By setting an additional table to the standard table Φ 300, it becomes a Φ 500 table, and TXP-5150FD can support medium to large size samples.
The 5-axis stage (X, Y, Z, Rotate, Tilt) allows inspection from multiple directions.
X-ray generator
Equipped with a 150 kV mini-focus X-ray generator, it is ideal for fluoroscopic inspection of die-cast and machine parts.
advanced detector
A flat panel detector (FPD) with wide dynamic range and no distortion is adopted for the X-ray detector.
Higher image quality than previous models.
Customizable
We can propose devices that meet customer needs, such as in-line inspection, automatic judgment, and switching to higher output types.
IMAGE EXAMPLES
SPECIFICATION
You can scroll left and right.
Key Specifications
Model
TXP-5150FD
Tube voltage
30~150kV
Tube current
0.1~0.5mA (Up to 0.75mA depending on tube voltage)
Focal spot size
0.1mm
X-ray detector
FPD (Flat Panel Detector)
Maximum sample size
φ500×H550 mm
Maximum sample weight
30kg
Axis
X, Y, Z, Rotation and Tilt
X's-PRO MR300
Tube voltage
30 to 150 kV
Tube current
0.75 mA maximum (at 75 W)
X-ray focal spot size
0.1mm
X-ray detector
X-ray I.I. (6-inch)

∗

Sample size
φ300×H550 mm
Table drive shafts
X, Y, Z, rotating, tilting
Maximum load
20kg
X's-PRO MR500
Tube voltage
30 to 150 kV
Tube current
0.75 mA maximum (at 75 W)
X-ray focal spot size
0.1mm
X-ray detector
X-ray I.I. (6-inch)

∗

Sample size
φ500×H550 mm
Table drive shafts
X, Y, Z, rotating, tilting
Maximum load
20kg
∗ X-ray I.I.: X-ray image intensifier