X-Ray Nondestructive Inspection System
Compact Tilt Model: TXV-CH4090FD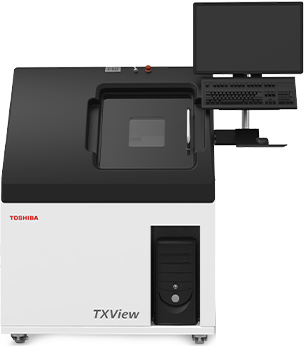 | | |
| --- | --- |
| Applications | Chip mounted boards, BGAs, electronic parts, devices, sensors, resins, etc. |
The TXV-CH4090FD is an easy-to-use model for inspecting chip circuit boards.
Incorporating Toshiba's X-ray sensing technology, the TXV-CH4090FD is ideal for inspecting solder on chip circuit boards and provides clear images of BGAs and soldering conditions.
The outstanding user interface simplifies and improves the efficiency of X-ray inspection.
FEATURES
X-ray generator
Equipped with close tube with a maximum tube voltage of 90 kV and a minimum focal dimension of 5 μm.
Unlike the open tube, the closed tube is an easy-to-use device that does not require detailed maintenance.
FPD (Flat Panel Detector)
FPD has a wide dynamic range and can obtain fluoroscopic images that are not easily affected by halation.
Tilt observation
In addition to the X, Y and Z-axis, the tilt axis enables fluoroscopic observation from an oblique direction.
The sample table moves in the X-Y axis direction, and the X-ray generator and X-ray sensor integrated mechanism move in the Z-axis and tilt axis, respectively.
Various function
Image Analysis, Image Measurement, Function of replay, Making movie file, Pitch Movement Function
Image Analysis: Pseudo Color, Profile, Histogram, 3D Image
Image Measurement: Die Attach Measuring (Includes Shading Function), Wire Sweep, 2 points Measurement, Measurement of void ratios, BGA void calculation
IMAGE EXAMPLES
SPECIFICATION
Key Specifications
Model
TXV-CH4090FD
X-ray generator
90kV
Minimum X-ray focal spot size
5μm
X-ray detector
FPD (Flat Panel Detector)
On-monitor magnification
10~153 times
Sample table size
400×350mm
Maximum sample size
350(W)×400(D)×50(H)mm
Tilting degrees
0~60 degrees
Image measurement and analysis function
Image Measurement
Die Attach Measuring
Includes Shading Function Wire Sweep, 2 point s
Measurement, Measurement of void ratios , BGA void calculation
Image Analysis
Pseudo Color, Profile, Histogram, 3D Image
Option
2axis Sample Manipulator (Rotate/Tilt), Rotation table, External camera, Carbon work table