X-Ray Nondestructive Inspection System
Compact CT Scanner
TXS-31300FD/TXS-30900FD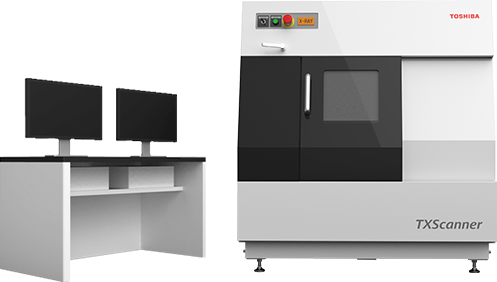 | | |
| --- | --- |
| Applications | Small Electronic Components, Moldings, Resins, Fibers, GFRP/CFRP and others |
Compact high-performance micro CT.
Equipped with a highly sensitive X-ray detector, it can image low-absorption (low specific gravity) objects with high contrast and high resolution.
FEATURES
Compact design
The X-ray generator can be selected from 90kV or 130kV.Due to its small footprint, it can be installed anywhere.
Compact but high definition
Equipped with an FPD with a wide dynamic range, products made of composite materials can also take high-definition images.
Two shooting modes
Smart mode) Even those who are unfamiliar with CT can easily take pictures in smart mode, which allows intuitive operation.
Expert mode) Operator can also set detailed parameters for shooting.
SPECIFICATION
You can scroll left and right.
Key specification
Model
TXS-31300FD
TXS-30900FD
X-ray generator
130kV
90kV
Minimum X-ray focal spot size
5μm
X-ray detector
FPD (Flat Panel Detector)
Resolution
5μm
Maximum sample size
Φ100×H150mm
Maximum scan area
Φ100mm
Maximum sample size
5kg
TXS-32300FD
| | |
| --- | --- |
| X-ray generator | 230kV |
| Minimum X-ray focal spot size | 4μm |
| X-ray detector | FPD (Flat Panel Detector) 8" / 16" |
| Maximum sample size / weight | Φ420×H450mm/20Kg |
| Maximum scan area | Φ420×H320mm(16-inch) |
| External dimensions | W2380×D1670×H1800mm |
| Main unit weight | Approx. 4000Kg |
| Power supply / ground | Single-phase AC 100V, 4kVA / Earth resistance: 100Ω or less |
TXS-33000FD
| | |
| --- | --- |
| X-ray generator | 300kV |
| Minimum X-ray focal spot size | 4μm |
| X-ray detector | FPD (Flat Panel Detector) 8" / 16" |
| Maximum sample size / weight | Φ420×H450mm/20Kg |
| Maximum scan area | Φ420×H320mm(8-inch/16-inch) |
| External dimensions | W2380×D1670×H1805mm |
| Main unit weight | Approx. 4800Kg |
| Power supply / ground | Single-phase AC 100V, 4kVA / Earth resistance: 100Ω or less |