X's-PRO MR300/500
X-Ray Nondestructive Inspection Systems
X's-PRO MR300 and MR500 X-ray fluoroscopic inspection systems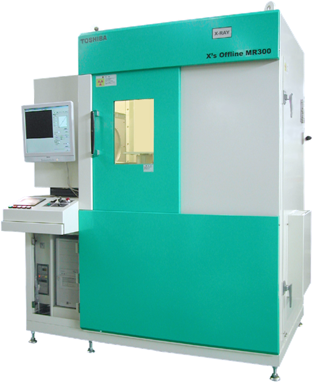 | | |
| --- | --- |
| Applications | Aluminum die castings, mechanical components, electronic parts, resin moldings, etc. |
The X's-PRO MR300 and MR500 all-in-one X-ray fluoroscopic inspection systems with five-axis sample table for multi-directional imaging are suitable for inspecting small- to medium-sized aluminum die castings.
FEATURES
Ideal for inspecting aluminum components
The five-axis sample table, with diameters of 300 mm or 500 mm, can be rotated and tilted—allowing you to capture images at arbitrary angles.
The combination of a joystick, a touch panel, and hardware switches also allows smooth manual operation.
The X's-PRO MR300 and MR500 can remember extensive operating conditions. This means you can simply select the desired pre-set configuration to automatically perform an inspection.
X's-Viewer image processing software series
X's-Viewer enhances X-ray fluoroscopic images to make them suitable for visual evaluation. Upon completion, you can save the images captured during the inspection process, as well as logs. You can add various optional features, including product ID barcode scanning, product ID marking, dimensional measurement, and printing.
Main features
・Image enhancement (integral and edge)
・Dimensional measurement
・Sequential and batch inspection modes
・Support for automatic inspection
・Automatic and manual image filing
・Inspection logs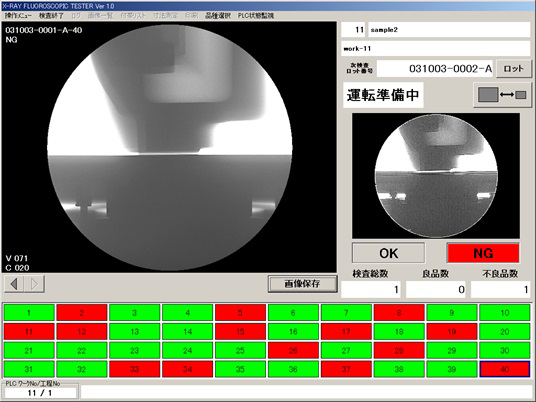 IMAGE EXAMPLES
SPECIFICATION
You can scroll left and right.
Key Specifications
Model
X's-PRO MR300
X's-PRO MR500
Tube voltage
30 to 150 kV
Tube current
0.75 mA maximum (at 75 W)
X-ray focal spot size
0.1mm
X-ray detector
X-ray I.I. (6-inch)*

∗

Sample size
φ300×H550 mm
φ500×H550 mm
Table drive shafts
X, Y, Z, rotating, tilting
Maximum load
20kg
∗ X-ray I.I.: X-ray image intensifier
X's-PRO MR300
Tube voltage
30 to 150 kV
Tube current
0.75 mA maximum (at 75 W)
X-ray focal spot size
0.1mm
X-ray detector
X-ray I.I. (6-inch)

∗

Sample size
φ300×H550 mm
Table drive shafts
X, Y, Z, rotating, tilting
Maximum load
20kg
X's-PRO MR500
Tube voltage
30 to 150 kV
Tube current
0.75 mA maximum (at 75 W)
X-ray focal spot size
0.1mm
X-ray detector
X-ray I.I. (6-inch)

∗

Sample size
φ500×H550 mm
Table drive shafts
X, Y, Z, rotating, tilting
Maximum load
20kg
∗ X-ray I.I.: X-ray image intensifier