TOSMICRON-S4000IN
X-Ray Nondestructive Inspection Systems
TOSMICRON-S4090IN and TOSMICRON-S4130IN micro-focus X-ray inspection systems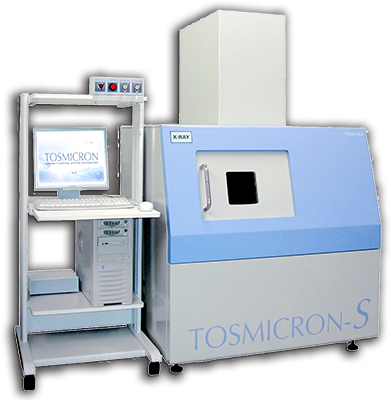 | | |
| --- | --- |
| Applications | Chip mounted boards, BGAs, electronic parts, devices, sensors, resins, etc. |
Incorporating a micro-focus X-ray generator, the TOSMICRON-S4000IN series of high-performance X-ray fluoroscopic inspection systems delivers clear images.
FEATURES
High-performance X-ray generator
The TOSMICRON-S4000IN series incorporates a micro-focus sealed-tube X-ray generator. Select from 90-kV or 130-kV X-ray generators.
High-speed, high-precision sample table
With its highly rigid and accurate sample table, the TOSMICRON-S4000IN series is capable of high-speed and automatic table feeding as well as various dimensional measurements.
With large table option
The TOSMICRON-S4000IN series also comes with a large sample table of 600 × 350 mm.
The large sample table provides more inspection options, such as imaging large samples and continuous imaging of multiple products.
Outstanding operability
The TOSMICRON-S4000IN series supports table navigation, memory box, and many other functions.
The measurement functions are accessible via icons for ease of use.
IMAGE EXAMPLES
SPECIFICATION
You can scroll left and right.
Key Specifications
Model
TOSMICRON-S4090IN
TOSMICRON-S4130IN
X-ray generator
90kV
130kV
Focal point size
5μm
X-ray detector
X-ray I.I. (4-inch / 2-inch)

∗

Table size
Standard table: 410×360 mm (effective imaging area: 350×300 mm)
Large table: 600×350 mm
Main unit external dimensions (W×D×H)
1150×1095×1790 mm
∗ X-ray I.I.: X-ray image intensifier
TOSMICRON-S4090IN
X-ray generator
90kV
Focal point size
5μm
X-ray detector
X-ray I.I. (4-inch / 2-inch)

*

Table size
Standard table: 410×360 mm (effective imaging area: 350×300 mm)
Large table: 600×350 mm
Main unit external dimensions (W×D×H)
1150×1095×1790 mm
TOSMICRON-S4130IN
X-ray generator
130kV
Focal point size
5μm
X-ray detector
X-ray I.I. (4-inch / 2-inch)

∗

Table size
Standard table: 410×360 mm (effective imaging area: 350×300 mm)
Large table: 600×350 mm
Main unit external dimensions (W×D×H)
1150×1095×1790 mm
∗ X-ray I.I.: X-ray image intensifier