TOSCANER-30000μC
3

Series
X-Ray Nondestructive Inspection Systems
TOSCANER-30900μC3 and TOSCANER-31300μC3 Micro-CT scanners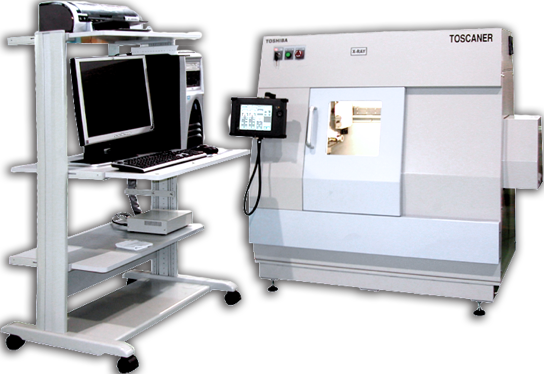 | | |
| --- | --- |
| Applications | Small electronic parts, molded components, resins, GFRP, CFRP, fibers, etc. |
The TOSCANER-30000μC3 compact high-performance micro-CT scanner series incorporates a high-sensitivity X-ray detector, which makes it possible to capture high-contrast, high-resolution images of samples with low X-ray absorption (i.e., low specific gravity).
FEATURES
High-performance X-ray generator
The TOSCANER-30000μC3 series incorporates a micro-focus sealed-tube X-ray generator with a tube voltage of either 90 kV or 130 kV.
The TOSCANER-30000μC3 series is capable of capturing high-definition images at a resolution of 5 μm.
High-sensitivity X-ray detector
The beryllium X-ray detector has improved sensitivity to low-energy X-ray irradiation and thus provides clear images.
Simple mode
Fully automatic calibration, auto centering, and other features considerably simplify scanning operations.
Double-oblique reconstruction
After acquiring the data, the scanner displays double-oblique reconstructed images. This means, you can view both longitudinal and transverse images at the same time.
IMAGE EXAMPLES
SPECIFICATION
You can scroll left and right.
Key Specifications
Model
TOSCANER-30900μC

3

TOSCANER-31300μC

3

X-ray generator
90kV
130kV
Focal point size
5μm
X-ray detector
X-ray I.I. (4-inch / 2.5-inch)

∗

Resolution
5μm
Maximum sample size
φ100×H150 mm
Maximum scan area
φ100mm
Maximum sample weight
5kg
External dimensions (W×D×H)
1350×610×1290 mm
Main unit weight
Approx. 800 kg
∗ X-ray I.I.: X-ray image intensifier
| | |
| --- | --- |
| X-ray generator | 90kV |
| Focal point size | 5μm |
| X-ray detector | X-ray I.I. (4-inch / 2.5-inch)* |
| Resolution | 5μm |
| Maximum sample size | φ100×H150 mm |
| Maximum scan area | φ100mm |
| Maximum sample weight | 5kg |
| External dimensions (W×D×H) | 1350×610×1290 mm |
| Main unit weight | Approx. 800 kg |
| | |
| --- | --- |
| X-ray generator | 130kV |
| Focal point size | 5μm |
| X-ray detector | X-ray I.I. (4-inch / 2.5-inch)* |
| Resolution | 5μm |
| Maximum sample size | φ100×H150 mm |
| Maximum scan area | φ100mm |
| Maximum sample weight | 5kg |
| External dimensions (W×D×H) | 1350×610×1290 mm |
| Main unit weight | Approx. 800 kg |
∗X-ray I.I.: X-ray image intensifier